Athletic Directors
Senior High Athletic Director - 
Jeff Hollinshead 
Junior High Athletic Director
Symonds Botchey 
Athletic Mission Statement
The purpose of the SCA athletic program is to bring glory to God. 
Colossians 3:23 says "to do everything as unto the Lord".  Athletes are challenged to have a personal relationship with Jesus Christ as Lord and Savior.  Athletes are challenged to be a living testimony to Christ through changed attitudes, acceptable standards of behavior and increasing spiritual maturity.
 Mission Statement:
- Our hope is that we provide a positive environment for students to grow in their relationship with Christ and in their skills in sport
Matthew 10:16
"I am sending you out like sheep among wolves. Therefore, be as shrewd as snakes and as innocent as doves."
"This is part of what wholeheartedness looks like. You put your whole self in, including your mind and talents.  Jesus wanted people who were not just devoted to him "spiritually" but who were wide awake and willing to face up to reality and actually thought about strategy and tactics and being effective."—John Ortberg (All the Places you will go…How Will You Know?)
SCA Athletic Policy
School teams are for those who have a talent in that particular area and wish to develop it and be involved in a competitive league.
ATHLETES
It is an honor to be a member of an Eagles Sports team.
In order to be involved with an interscholastic team the coaches, managers and athletes must be prepared to commit themselves to the entire program.
A satisfactory academic record and regular school attendance are mandatory. If a student fails to keep within these regulations, they will be placed on academic probation until grades are raised back to an acceptable level. Removal from a team will follow suit if progress is not made in a timely fashion (2-4 weeks).
To be included on any team, in any capacity, a positive and cooperative attitude with the coaching staff, teachers, officials, administration, team mates and opponents is required, including acceptable attitude and behavior in classrooms.  Where it is evident that a potential team player displays poor attitude, effort or behavior during regular classes that athlete shall not be allowed to become a team member. Once the team has been selected and approved and a player begins to perform poorly in classes they will be put on weekly probation and risk being expelled from the team.  Players on probation must have their 'probation slips' signed by each of their subject area teachers before game time. A coach must not allow a player on probation to play until the requirements have been met.
It is assumed that any individual on a team will have an attitude of striving for excellence, good sportsmanship, common courtesy, and respect for ALL.  Athletes represent Strathcona Christian Academy and will act accordingly.
 Athletes are not to involve themselves in any sort of initiation, rookie treatment, or singling out of new players on a team. Once on a team, members of that team are viewed as equal and not to be singled out in any way. This includes dressing up, making do tasks (carrying balls, filling water bottles, etc.). At no point is a player allowed to be singled out in a team setting in a way that could cause embarrassment.
 Athletes are to refrain from using alcohol, drugs, and any other harmful substances deemed inappropriate for use. Athletes are also expected to conduct themselves in a Christ-like manner when it comes to sexual conduct within their personal lives.
                                                   If an athlete is caught disregarding any of the following codes of conduct or under suspicion of, they will be handed over to administration where further discipline will ensue. Suspensions and/or removal from the team may occur.
TEAMS
Team Selection Criteria
                                             The decisions involved in making team selections are not easy. The coach must spend a great deal of time in the decision-making process to ensure that the process is accurately and professionally handled.  
                                             The entire student, not just physical skills, is to be considered in the process of choosing the team. The team player criteria include the following:
                                                         -           skill level and skill potential                  -     level of physical fitness
                                                         -           attitude and behavior                            -     work ethic
                                                         -           leadership potential                               -     grade level
                                                         -           personal benefit to the student
-           time commitments of the athletes on non-athletic responsibilities that might be detrimental to either the individual or the team
                                     Red shirts (practice players) are not an SCA practice; these athletes are encouraged to take active roles as team managers, stats persons, etc.
                                             Athletes are to be made aware of their role and position on the team so that this is clear to them from the outset.  There must not be any surprises to athletes/parents about the role he/she plays on the team.
Playing Time
                                             Students have the right to try out for a team.  However, it is a privilege to be chosen to be a member of a team.  It is during practice that a player earns the privilege to play in a game.  As many athletes as possible will be given playing time but each player will not necessarily play in every game.  Players will be expected to attend all practices even though they might not be given playing time in all games.
Generally, there are a number of criteria which determine who plays, and how much time each athlete receives:
                                    -           the effort of the athlete
                                    -           the attitude and behavior of the individual athlete
-           the athlete's commitment to the team at practice (miss a practice, miss a game)
                                                and  during competition (miss a practice, miss a game)
                                    -           the athlete's leadership abilities to assist and lift the team up
                                    -           the skill level of the athlete
                                    -           the skill level of the opposing team
                                             Coaches should also consider the following:
                                    -           at the Jr. Jr. level, playing time is split as close to 50/50 as possible
                                    -           at the Jr. Sr. level, every athlete should have the opportunity to play
-           at the Varsity level, it is the coach's discretion as to whom plays. This may lead to an athlete not getting into a game.
  Attitude and Sportsmanship
                                             The player's attitude toward participation in a sport is critical.  There should be an attitude of enthusiasm and good sportsmanship.  This is demonstrated by supporting and encouraging team members, and not by demeaning opponents or arguing with referees.  It is imperative that players respect the opposition and the referees. This is especially significant as a good witness for Christ.
Relationship
                                             Teammates, coaches and opposing team members must always be respected as persons of value in the sight of God.  Relationships should be built on Christian principles. Loyalty, discipline and sacrifice are encouraged to develop positive character and promote team spirit and unity.  Characteristics of egotism, selfishness and jealousy must be addressed by the coach.
On Winning
                                             Athletics is competitive and our aim is to play well and to win.  However, winning is only one way to measure success and certainly not the most important.  Our Christian witness is most important and must never be compromised for the sake of winning.
General Conduct
                                             We are role models.  Being an athlete or a spectator brings about new responsibilities which we must accept.  Many people will know us by our appearance at games and will be observing our actions. Our conduct should always be such that it brings credit to ourselves, our team, our school and ultimately, glory to God.
Team Uniforms
All teams have uniforms that can be signed out by the team members at a predetermined time.  Coaches are responsible for ensuring accurate recordkeeping of uniforms.
Team members must pay their season fee by cheque (postdated cheques are fine) before jerseys will be issued.  Cheques must be made out to SCA and given to Mrs. Hay in the secondary office.
Those teams whose uniforms do not have shorts are expected to use the regular gym attire  shorts as part of the team uniform.  (Otherwise the team will not look 'uniform' in appearance - SCA gym attire shorts can be purchased from the Athletic Director)
Immediately after the final game of the season the coaches are to collect all uniforms.  Players should come to this game knowing they will hand in their uniform afterwards. This saves the coach the huge hassle of tracking down athletes, gathering uniforms, etc. in order to hand them in to the Athletic Director.  (Collect the unwashed jerseys and deliver them to the Athletic Director who is responsible for their washing and storage.  Coaches should take with them a collection bag to the final game).
 Practices, Games and Tournaments
The Athletic Director will schedule the practice times and game locations.  Sometimes the entire north gym will be available but often not as there are many teams looking for practice time.
Switches in practice times are to be agreed upon between the coaches.
Bookings for free time (non-school days, Christmas holidays, etc)  must be requested 2 weeks in advance with the Athletic Director due to the paperwork involved with Church/gym bookings.
Noon hours are designated for intramurals and should not be considered as possible team practise opportunities.
Exhibition games are to be held after school within scheduled practice times unless arranged with the Athletic Director and affected coaches.
Athletes need to ask permission from teachers in order to attend in-school games.  Permission is NOT automatic.
Athletes are to stay abreast of their school work and not make excuses for late, undone or unfinished work.
League schedules will be given out at the coaches' meeting or as soon as they are available.
Tournaments will be booked by the Athletics Director; if a coach wishes a specific tournament, communicate well in advance.
The number of tournaments athletes and coaches should generally plan for is 3
- Generally tournaments close to Sherwood Park are preferred so that parents can easily attend and costs can be minimized.  Overnight tournaments are the exception because they require additional paperwork, cost, supervision and time away from school.
                            - However, special requests are to be submitted to the administration for consideration on an individual basis.
One tournament may be hosted per year by the school for each sport with the coach's help and involvement.  Dates must be determined well in advance of the event (by March the year before the tourney) due to other church related bookings.  Coaches must be willing to get involved in hosting tournaments due to the workload involved. The Athletic Director will be a resource and P.E. 9,10,20,30 students may be available to assist.
9. Discipline
                     The athlete is an ambassador for Christ and for SCA, and will adhere to the guidelines in this Athletic Policy.  The coach is responsible to monitor players' behavior at all times.
Suspensions from the team for infractions deemed serious may be administered by the coach after due process and consultation with the parents, teacher, Athletic Director and the Secondary Principal.  (See Student & Parent Handbook.)
Athlete's Code of Conduct
Athlete's Creed
I am a Christian above all else.
I am a Christian competitor who gives God the glory for my talents.
My attitude and actions on and off the court will be above reproach.
I will respect coaches, teammates, competitors, spectators and officials.
My Christian Morals will be shown on my team and in my school.
At all times I will encourage my teammates.
I will give my all -all the time- as unto Christ.
For I am the Lord's Ambassador.
Let the Glory be to God. Let the competition begin!
I understand that I have a responsibility to properly represent Strathcona Christian Academy Secondary School in a first class manner at all times (in school, out of school, on the playing surface, off the playing surface)
I will abstain from any use of drugs, alcohol, and/or tobacco.
My commitment to this team is a full-time responsibility. My coaches and teammates can count on me to be at every practice or team meeting to help us achieve our individual and team goals.
I realize that my work ethic, character, and attitude must have a positive impact on my teammates, team and school.
Doing what is best for our team and school is my top priority, much more so than my own personal ambitions and playing time.
I understand that taking care of all the apparel and equipment provided to me is my responsibility and I agree to be prepared for all games and practices.
My actions, language, and behavior (at all times) will reflect the proper level of respect for my teammates, team, and the school.
I realize that working to be a successful student is the priority in being a top level student-athlete. My coaches and teammates can count on me to maintain my grades at an acceptable standard (50% or higher) and accept my role in the classroom.
I understand that I must behave appropriately as a student-athlete at all times, cooperative and highly respectful of all teaching staff and church staff.
I understand that I must obey all rules, policies, and procedures set out by Strathcona Christian Academy Secondary School in our student handbook.
I realize and understand that any failure to follow the above expectations will lead to being placed on the SCA Athletics behavior/academic probation plan, suspension or expulsion from the team.
Parent Responsibility
Eagles Athletics Parent Contract
As a parent, part of enjoying your children's participation in competitive sports is watching them enjoy the game themselves, developing skills and discipline, improving their performance and of course having fun. But some parents get too caught up in the excitement and action. They forget that the sport they are watching is for their child's benefit, not the parent's entertainment. This parent contract provides you with information regarding your responsibilities that will help to allow your child to play his or her own game and enjoy their time in the Eagles Athletics program.
Everyone has heard or seen the loud, obnoxious parent in the stands during a sporting event. They have it out for everyone, the officials, the coaches, the other team, and possibly even other parents. This behavior affects the coaches and officials ability to do their job. It can embarrass the players, steal their fun, and potentially lead to violence. In short, unruly parents are not setting a good example, and all kids learn from examples.
In Paul's letter to the Romans he encourages them that "if it is possible, as much as it depends on you, live at peace with everyone." (12:18). Below are the guidelines for parents of the Eagles Athletics Department.
- I will not force my child to participate
- I will pledge to actively monitor my child's academic progress and reinforce the importance of academic achievement
- I will remember that my child plays sports for their own enjoyment, not for mine
- I will learn the rules of the game and policies of the team
- I will teach my child to play by the rules of the game and resolve conflicts without resorting to hostility or violence
- I will always maintain self control and emotional discipline while at all events
- I will speak with the coaching staff in private should I have any questions, comments or concerns regarding my child or any child's well being
- I will allow 24 hours before approaching the coach with a concern and never approach them directly after a game.
- I will leave coaching to the coaches and refrain from coaching my child or other players during games and practices
- I will respect decisions made by coaches, officials and other team parents at all times
- I will support my child and my child's teammates in the most positive way possible
By agreeing to this code of conduct, I acknowledge that my child's activity is for his or her own enjoyment, not mine. Should I deliberately ignore my responsibilities as a parent, I may be subject to disciplinary action such as being asked to leave an event or being banned from future events. I promise to uphold my parental responsibility to influence my child in positive ways and remain an active and supportive role in my child's development at all times.
Varsity Boys Basketball team wins Bronze at 3A Provincials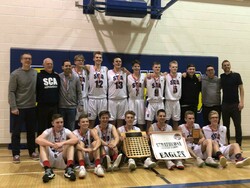 Congratulations to our Varsity Boys who beat out St. Peter the Apostle 85-84 in the last seconds of a hard fought bronze medal final!  We are very proud of you!  #SCAAthletics #SCAEagles