Back to all posts
Posted on
2022-23 SCA Secondary School High School Course Selection Information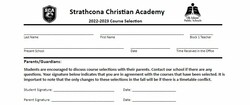 Course Selection for Current SCA Secondary High School Students
For more information on our *NEW* SCA Secondary School High School Course Selection Process for the 2022-23 School year, please click the link below:
SCA Secondary School Course Selection Information
Course Selection for NEW SCA Secondary High School Students
Use the links below if you are a new family confirmed to be joining SCS in the 2022-23 school year or if you are a current SCS student and have misplaced the form given to you.
Grade 10 Course Selection Form
Grade 11 Course Selection Form
Grade 12 Course Selection Form 
All forms need to be emailed to Mrs. Khajavi once completed and signed by a parent at allisen.khajavi@eips.ca.
Please contact our school office should you have any questions.
Looking Forward to another great school year!