Back to all posts
Posted on:
Bell Let's Talk Day - January 28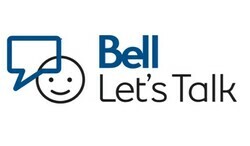 Bell Let's Talk Day is Thursday, January 28. We're joining in to help drive progress in mental health.
COVID-19 has affected every aspect of our lives, including our mental health. According to the Canadian Mental Health Association, 38% of Canadians say their mental health has declined due to COVID-19, and people already struggling with their mental health were two times more likely to say their mental health has declined because of the pandemic. When it comes to mental health, now more than ever, every action counts.
On Bell Let's Talk Day, Bell donates five cents to Canadian mental health programs for every applicable text, local or long-distance call; every tweet or TikTok video using #BellLetsTalk; every Facebook, Instagram, Pinterest, Snapchat, TikTok, Twitter and YouTube view of the Bell Let's Talk Day video; and every use of the Bell Let's Talk Facebook frame or Snapchat filter—all at no cost to participants beyond what they would normally pay their service provider for online or phone access.


You can also find resources, learn more about some of the organizations providing meaningful mental health supports and services throughout Canada, and download the Bell Let's Talk toolkit to begin your own conversation about mental health at home, school or in the workplace.
Join us this Bell Let's Talk Day by showing your support for all those who live with mental illness and those taking action to help them.