Back to all posts
Posted on
Parent/Teacher Interviews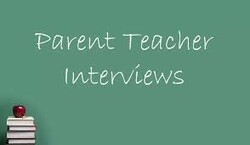 Due to the school being closed at this time, Parent / Teacher Interviews will not be held in the school. Please check back for further details as we determine how and when interviews will occur. 
Please note these instructions for booking Parent/Teacher Interviews
 Once again we will be using our online booking system to make it easier for parents to sign up for parent/teacher interviews. When you log on you will see what times teachers are available and you can select an interview schedule that work best for you. If you do not have access to the internet, you may come into the school office to make your bookings. Our online booking will go live on Wednesday, March 11 at 6:00 pm. The sooner you book your appointments, the more likely you will get the times you want. Online bookings will be closed at 3:30 on Thursday, March 19. After that time, bookings will need to be made in person at interviews. Interviews are being held on March 19th  and March 24th.
Instructions for Online Booking
Click on this link to access the booking site: http://www.schoolinterviews.ca
Enter our school code of x63qy

Enter your name, e-mail address, and children's names

Pick your children's courses and teachers from the drop down boxes

Pick your interview day and time from the grid
If you have any questions please contact Lorraine McTurk, our Administrative Assistant.  You can call her at 780 464 7127 or email her at lorraine.mcturk@eips.ca