SCA Theatre Presents - Cinderella
We are excited to bring you the classic tale: Rodgers & Hammerstein's Cinderella
"A dream is a wish your heart makes", but sometimes, in the busyness of life, those dreams need a little extra help to make them come true. Rodger & Hammerstein's Cinderella tells of the classic fairy tale of Ella, a girl who lived the phrase "Have courage and be kind" as she followed the journey to her dreams. SCA Theatre brings Cinderella to life in a magical combination of the many different versions of the much beloved story. Join us and live out your dream as we explore the story of Cinderella, and discover that "Impossible things are happening everyday."
DATES
February 12-15, 2019
Evening Shows: 7pm Tuesday - Friday; for General Admission, Doors opens 40 mins before showtime
February 12-15, 2019
Matinee Shows: 11:30 Tuesday - Friday; for General Admission, Doors open 40 mins before showtime
 LOCATION:
Strathcona Christian Academy Auditorium/Sherwood Park Alliance Church
1011 Cloverbar Road
Sherwood Park, AB T8A 4V7
TICKETS: 
to Purchase your tickets: Please click here for detailed instructions 

Matinee Adult: $15.00, Youth (17 & under): $10.00
Evening Adult: $20.00, Youth(17 & under): $15.00
Pre-Show Magical Princess Moments: Join us for a Magical Princess Moment as 6 of our Princesses take your little ones through a musical adventure of fun and entertainment, which includes a 20 minute princess experience with pictures and a sing-along. Tickets include admission to Cinderella and get you early entry seating to the show. The Magical Princess Moment starts exactly at 10:30am for matinees and 6:00pm for evening shows. Only 50 tickets per show are available for the magical moment so do not hesitate to buy.


Matinee Adult: $25.00, Youth(17 & under): $20.00
Evening Adult: $30.00, Youth(17 & under): $25.00

All tickets must be purchased in advanced. All seats are General Admission. 
If you are a SCA Secondary or Elementary family, please logon to your parent portal to purchase tickets through the school fees system.  https://powerschool.eips.ca/public/home.html
For all other guests, please click here to purchase tickets: https://www.studentquickpay.com/EIPS/
SCHOOL or LARGE GROUP BOOKINGS: Phone SCS school office 780 464 7127 and talk to Lorraine McTurk to reserve your group booking. 

School Bookings: $8.00 per person
Group Bookings 25+ are available at Youth prices but must be purchased through our School office

Email questions: info@scatheatre.com
Follow us on Instagram @scastheatre and on facebook
SCA Theatre Presents - The Greatest Shows Gala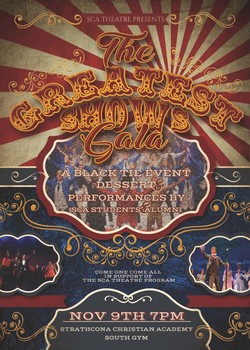 A Black Tie event you do not want to miss!  SCA Theatre Students, Past and Present, are joining together to bring you a night you will not forget! Performances from past shows, new musical numbers with stunning choreography and so much more! Our students have been working hard and can't wait to hit the stage "again" and for some, the first time! For more info please email info@scatheatre.com 
Nov 9th, 7pm
$15 ticket 
$25 for 2 tickets
What' Happing in SCA Theatre