Yay SCA!
Metro Athletics 2020 All-Stars
The list is out and once again SCA Athletics ranked right up there.  All athletes nominated were advertised on page NP8 in the June 3, 2020 edition of the Edmonton Journal.  Click HERE.  Our Metro Athletic All-Stars are: Abigail Weiss and Joel Nickel (volleyball) and Ryan Reed and Mikah Reed (basketball).
Congratulations once again to our Coaches of the Year: Jon Courville (Varsity Boys Basketball),  Gerry Nickel (Varsity Boys Volleyball) and Marcus Reed (Varsity Girls Basketball).
Let's hope athletics goes next year in some form at least!
Letter Writing to Seniors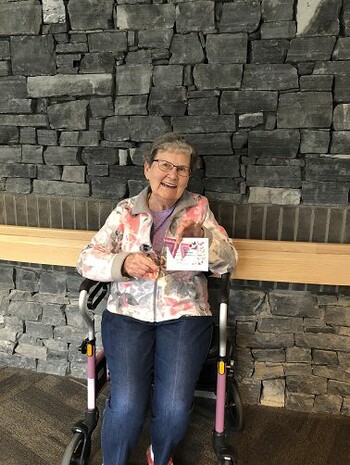 https://www.sherwoodparknews.com/news/local-news/covid-19-linking-generations-remains-connected
While the way Linking Generation participants are staying connected has changed because of COVID-19, the need for building relationships with seniors has remained the same.
With schools shut down and major access restrictions in place for seniors and long term care facilities, Linking Generations had to adapt its program to keep seniors and local youth connected during the pandemic. Over the past six weeks, a letter-writing program was launched, where students wrote weekly to their linked senior and seniors responding, and those were delivered to the various seniors facilities by the program coordinators. As of May 22, more than 250 letters were shared back and forth. Some also kept in touch with Skype or Zoom calls.
Jr/Sr Boys Basketball Win Title!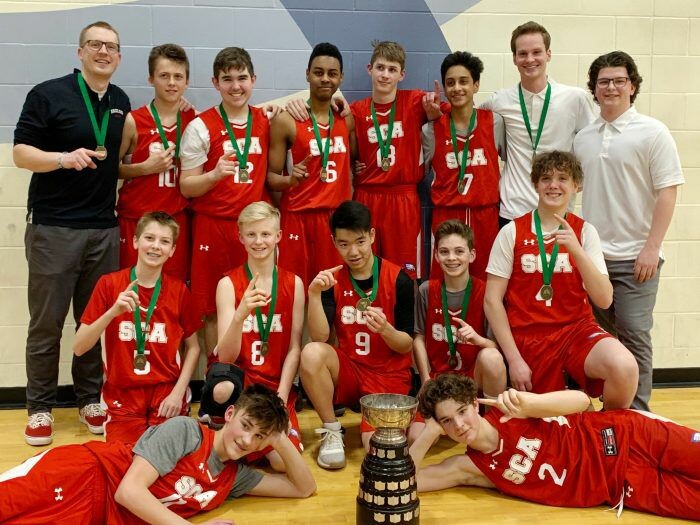 When you average less than a championship a decade in a CFL-sized league, it is certainly noteworthy when the chips fall in your favour.
Such was the case for the Strathcona Christian Academy (SCA) Eagles junior high senior boys basketball (Grades 8 and 9) team this season, as they were able to win just their third Elk Island Public Schools title in a 35-year span this year, just in advance of the school sporting shutdowns that came in the wake of the COVID-19 crisis.
Sitting in third place heading into the EIPS playoffs, the Eagles had the daunting task of needing to get past the only two teams that had handed them losses all season long.
Click HERE for the rest of the story.
French 10 Crepes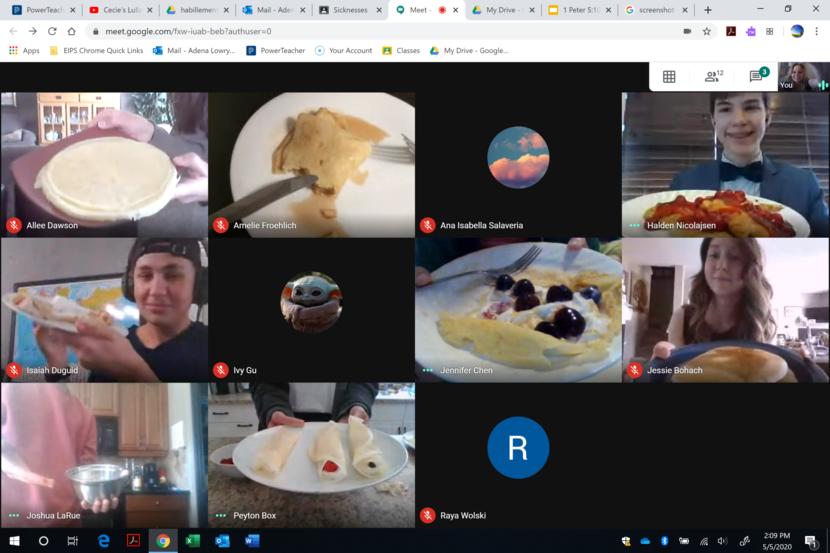 It was crepe making day in Ms. Lowry's French 10 class.  Mmm.
She said, "The best crepes had cherry pie filling!  How creative is that?  It was such a fun class and the kids are so great."
Warm Wishes Project
Congratulations to Ciara B., Madison B., Hunter D., Jordana K., and Morgan B. for their winning submission to the Denton's Make Your Mark on Poverty contest.
Click HERE and go to 34:00.
Ear Savers Project
The headline on CTV news read "Local teens 3D printing thousands of ear savers for health care and front line workers."  You might recognize a few faces from our Cyber Eagles crew.
Click HERE.