Missions
History
Our Leadership program was founded by Mrs. Connie Mycroft and Mr. Leo Pauls in 1998, making it and has adapted over 20 years to officially become the missions program. It began with one class of 20 students and has grown to three classes with a total of about sixty students. A total of over 1 000 SCA students and staff have travelled on our teams over these years
Global Missions
Are you ready to embark upon a great adventure? If so, SCA Missions is just for you. Our Missions Program is an opportunity for students to be trained in ministry and service and then for them to put that into practice and experience God at work through them on a mission trip. During the program students will:
Study the Biblical concept of ministry and leadership
Develop leadership skills through committee work and class activities
Develop public speaking skills through our Toastmasters International Program
Participate in a mission trip
Planned trips for 2020
| | | | |
| --- | --- | --- | --- |
| Class | Location | Date | Ministry |
| Missions 10 | Teen Ranch ON  | Spring Break  | Running camps and retreats |
| Missions 20 | Belize | Spring Break | Construction of a greenhouse and kid's ministry |
| Missions 30 | Belize | Spring Break | School evangelism (drama, music and preaching) |
Global Missions Application Package
Theme Verse: Dear children, let us not love with words or speech but in actions and in truth. (1 John 3:18)
Global Missions 10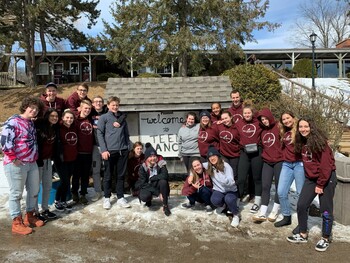 2018- 2019 Review
From March 7-17, 2019 our Missions 10 team had the opportunity to minister at Teen Ranch. Teen Ranch is a not-for-profit, inter-denominational, Christian Sports Camp and Retreat Facility. During our trip we hosted three camps ministering to kids ages 5-15 through drama's, testimonies, worship, and leading devotions in their cabins. Our students made a strong impact on the lives of the campers as they modeled for them what it means to be a disciple of Christ. Our students experience significant growth in their relationships with the campers, staff, each other, and Christ.  
Global Missions 20 / 30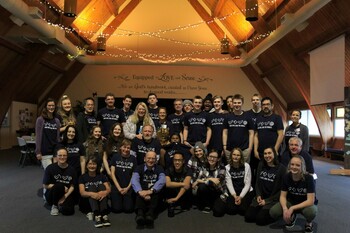 2018 - 2019 Review 
Our Missions 20/30 team partnered with Georgetown Christian Reformed Church to serve in three different ministries. Regeneration, a Brampton inner-city community, seeks to serve those in extreme poverty and homelessness by meeting physical and spiritual needs. We assisted in preparing and serving meals, interacting with guests, and sorting the donation warehouse. At Wastewise, a community recycling charity, students helped organize items and socialized with guests. Finally, we helped an elderly woman transition from an abusive situation by physically removing unwanted items and restoring her home and emotionally providing care and support. Our team was stretched beyond comfort zones, but also supported and encouraged one another as God awakened our hearts for His people.
Local Missions
Local Missions focuses on building relationships around SCA, Sherwood Park, and Edmonton. Some of our partnerships include:
A Safe Place
Encounter
Food for Friends
Hope Mission
Linking Generations - Captial Care
Mustard Seed
PALM Ministries
Pregnancy Care Centre
Robin Hood
Sherwood Park Alliance Church - Treehouse
Sportball
Strathcona Christian Academy Elementary
Strathcona Food Bank
Sherwood Heights Junior High
Teens Against Violent Oppression
We Care
If you would like to be involved, feel free to email Mr. Cheung