Spring Break is here!
Spring Break school closure is Friday, March 22 - Friday, March 29, 2019. Last day of classes before Spring Break is Thursday, March 21, 2019. The school office will be closed during Spring Break. 
Our office will re open and classes resume Monday, April 1, 2019 with Day 1 on the schedule. Remember Staff Meeting early dismissal is Wednesday, April 3, 2019. 
Parent Teacher Interviews
Parent Teacher Interviews will be held on Tuesday, April 9, 2019  and Thursday, April 11, 2019 from 4:30 - 8:30pm. 
The online sign up will open on April 1, 2019 at 6:00pm. Please watch for details about the online sign up in your parent weekly email and on our website.  
Varsity Boys Basketball team wins Bronze at 3A Provincials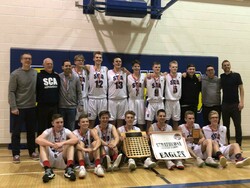 Congratulations to our Varsity Boys who beat out St. Peter the Apostle 85-84 in the last seconds of a hard fought bronze medal final!  We are very proud of you!  #SCAAthletics #SCAEagles 
Grad Photo Week at SCA
Grad Photos are taking place  March 11 - 21. ICON by Lifetouch Photography will be on set up in the drama portable all week.  If you are in grade 12 and have not signed up for your Grad Photo sitting, please follow the link here 
http://www.iconexp.com/graduation.html
School Fees

Families are invoiced for school fees at the beginning of every school year. Fees are due within 30 days of the invoice date. The simplest, and most convenient, way to pay schools fees is by logging in to the PowerSchool Parent Portal and clicking on "Student Fees." If circumstances exist where you are unable to pay your students fees, you can apply to have fees waived by submitting an Application for a Waiver of Fees.
For more information:
EIPS fees and waivers
Strathcona Christian Academy Secondary fees
Student Transportation fees
Division News