Back to all posts
Posted on
New Student Registration Information (for students not currently attending an EIPS school)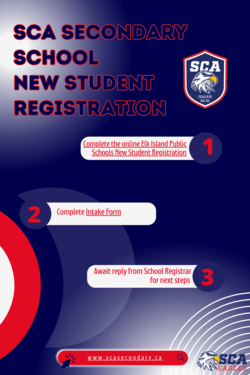 Are you a New Family interested in having your child attend SCA Secondary School?
We are so excited! Please see below for next steps!
Step 1: NEW Students, register online HERE.
Step 2: All NEW Students must complete the Intake Form.
Step 3: Await email reply (this may take up to 2 business days). Once the school registrar confirms there is available space in your child(ren)'s grade, families will receive information on, and must attend, a new student orientation. The purpose of this orientation is to ensure understanding of our school's philosophy and Christian programming as well as review the course selection process and a school tour.
Thank you for your interest in our school!
Questions? Please email our School Registrar: allisen.khajavi@eips.ca